Charles Blondin was a famous pioneer of tightrope walking (which, if you care, is properly called "funambulism," and which I take to mean the intricate balance between fun and ambulances). In 1859 Blondin crossed the Niagara Falls on a 3-inch tightrope, walking about 400 yards across the water at a height of 160 feet. Thousands of spectators gasped at his boldness and skill.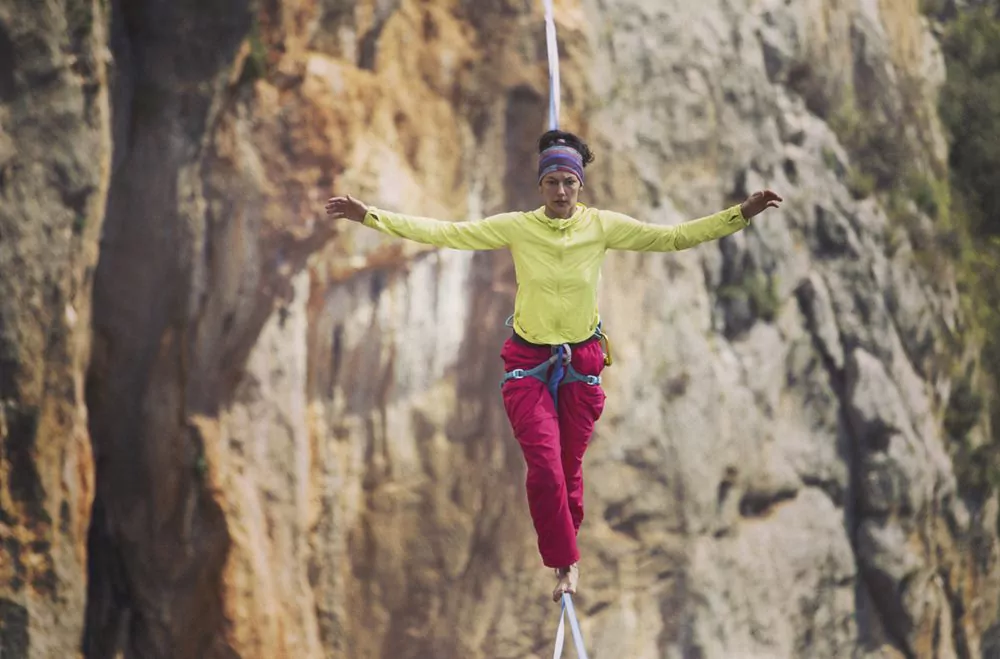 In subsequent shows, he repeated his performance with various twists: walking blindfolded, prancing on stilts, or sitting down on the rope in the middle of Niagara Falls to cook himself an omelet. Once he even carried his manager across on his back.
After lugging his manager across the Falls, Blondin went up to a spectator and asked, "Do you believe I could carry you across the Niagara on my back?"
"I sure do."
Blodin said, "Hop on."
The man replied, "Not on your life."
Into the Balance
The New Testament writers use a weird Greek word which translators render believe "in" Jesus. Instead of using the normal "en" (ἐν in Greek), which has a similar meaning to "in" in English, the writers use "eis" (εἰς in Greek). What makes that usage odd is that "eis" really means "into." More than mere location, "eis" has a sense of inner saturation, entry, or completeness.
I think translators avoid using "into" because it just sounds strange. A normal usage is found in John 11:27, She said to him, " Yes, Lord; I believe that you are the Christ, the Son of God, who is coming into the world." But consider these verses when eis is translated with "into":
The work of God is this: to believe

into

the one he has sent. (John 6:29)
And if anyone causes one of these little ones who believe

into

me to sin, it would be better for him to be thrown

into

[Greek, eis] the sea with a large millstone tied around his neck. (Mark 9:42)
Jesus cried out, "When a man believes

into

me, he does not believe

into

me only, but

into

the one who sent me. (John 12:44)
To be a Christian is to believe in God. But if we really believe "in" God, why are we so often fearful, angry, and miserable? It's because in some weird Greek grammatical twist, we believe in God but we don't believe into him.
Like the spectator at Niagara, we find Blondin impressive, but we wouldn't bet our life on him.
What Is Our Into?
In the most famous verse on earth, Jesus said anyone who "believes into him shall not perish but have eternal life" (John 3:16). But Jesus looks for more than mere admission that there is a God. Because in that simplistic sense, Satan himself believes "in" God, though he's hardly a model believer.
When we pray "in" faith asking for healing, marriage, or a job, we frequently believe "in" God without ever believing "into" him. We might be believing "into" the health, romance, or career; we just believe "in" God to get us what we most want.
Our "into's" always embody our deepest desires. It is they that we worship.
The eternal life Jesus promises begins not when we find God useful (believing "in" him), it begins when we find God beautiful. To believe "into" God means he himself becomes the richness we have always longed for and we leave all the other answers in his hands. He knows what we need better than we do, and our greatest need is him.
All of Scripture can be summarized in two words, God invites us to "Hop on."
Sam
To get into a deeper relationship with God, may I suggest reading my book, Hearing God in Conversation. It is written for personal connection with God.