I broke my leg skiing during my senior year in high school. It was the last run of the day (apparently, when you break a leg skiing, it's always the last run of the day) and I was showing off. I flew off a ski jump, found myself out of control, failed to recover, and then found myself speeding down the mountain to the hospital in an ambulance.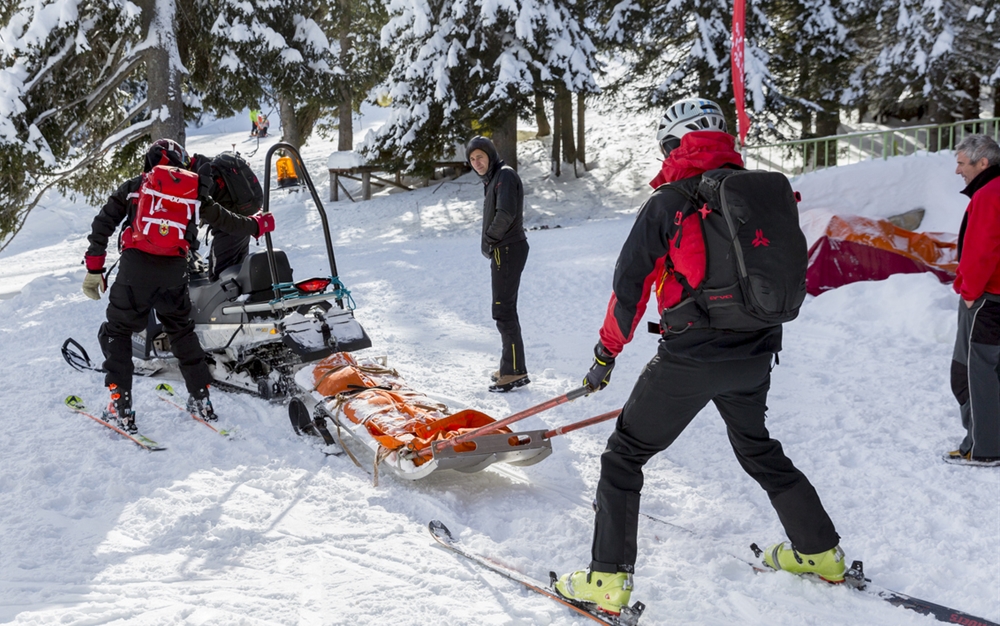 In Urgent Care, as the doctor examined my X-ray, he said, "I see this is the second time you've broken this leg." And it was. At least I thought it was. But I had never been sure.
Because four years earlier, I had hiked Mt. Washington with my siblings. One day, I trekked ahead of my brothers and sisters and came to a fork (I didn't pick it up). The path to the right said, "The Chimney, Difficult" and the path to the left said, "Chimney Bypass, Easy."
I took the path to the right, slipped down the Chimney, and I smashed and bent my left leg. When my siblings arrived, we straightened my leg, prayed over it, and the pain went away immediately. I walked away just fine, always wondering if God had healed a broken leg.
After the ski accident, the ER doctor pointed to two different breaks in the X-ray (an old and a new) and it reminded me of my previous healing on Mt Washington. So a few friends and I prayed for another.
But this time nothing happened: no miracle, no sudden warmth, no vanquished pain; not even a tiny reduction in the dratted itching beneath the cast.
Answers Are gods
Why didn't God heal again? God seemed to me inconsistent or fickle, and I was puzzled. For four years, I had wondered about that leg on that mountain. Then, in almost the same moment, I both discovered he really did heal my leg once, and I discovered that he failed to do it twice.
As I puzzled in prayer one morning, I sensed God say that snow skiing had become an idol; and that he could heal my broken leg in an instant, but it would take months to heal my sick heart.
You see, I had attended a high school that exceled at sports. Three of my classmates went on to the NFL (after college). I was only five foot, eight inches, and 120 pounds when I graduated from high school (I grew more in university). I loved basketball and football, but I was too short, too slow, and too small.
But the first time I snow skied I fell in love. If I saw someone do something on skis, my body seemed to be able to do it without thinking. I watched people slalom, and in my first race I got second place. I watched people do flips off jumps, and I landed my first flip perfectly.
When God said skiing was my idol, he didn't mean I built a shrine, burnt candles, and sacrificed goats; he meant I looked to it for answers that only God could give. I got confidence from my skiing prowess; I didn't need God, the cross, or the supernatural. I had my skiing vanity.
It was idolatrous.
Shadow Answers
God repeatedly tells us that the answers the world gives are ghost answers. They look promising but are delusions. Ps. 115 reiterates this theme when it says that the gods of the nations (worldly answers) have eyes that cannot see, ears that don't hear, mouths that will not speak, and hands that cannot feel. They have all the appearances of life, but they lie.
Then the psalm says,
Those who make them become like them; so do all who trust in them. (Ps. 115:8)
In high school, I was unhappy with my size and weight. (Turns out, I still am, just with the opposite proportions.) I tried to satisfy my confidence questions with personal success. For a time I "trusted" skiing, it gave me confidence, and the eyes of my idol almost seemed to see.
But the answers of idols (and this world) are fleeting. While my first skiing flip did indeed end with a huge smile, the last flip I ever tried ended in the hospital with a broken leg.
Our lives are filled with questions—of confidence, security, hope, esteem, money, fear, or romance—and the way we answer those questions makes all the difference in the world.
Next time you experience a disappointment—or you break a leg and God doesn't heal it—remember that sometimes he's healing your broken heart from an idol that cannot satisfy.
Sam
The best "answers" for life come from hearing God. I encourage you to read Hearing God in Conversation — I put into it all I've learned from years of studying how to recognize his voice in our lives.
You can order a copy by clicking on the link or on the image. Topics include:
Learning to recognize the sound of God's voice
Hearing God in his silence
How to Brainstorm with God
Hearing God in Scripture
Hearing God for guidance
Gary Wilkerson (pastor, author, and son of David Wilkerson) said this:
A key longing in every human heart is to connect with God, to actually hear his voice. Sam Williamson has written a remarkable book that teaches both how to hear God's voice in Scripture, and then to hear his voice in every avenue of life. It's filled with humor, insight, practical tips, and sound theology. I can't recommend a better guide than Hearing God in Conversation.