While in middle school, I attended a church retreat in the middle of January. The temperature was five degrees below zero (-20° C). With friends I crossed a low bridge that spanned a four-foot-deep stream. We wrestled a bit, and I fell off the bridge into the stream.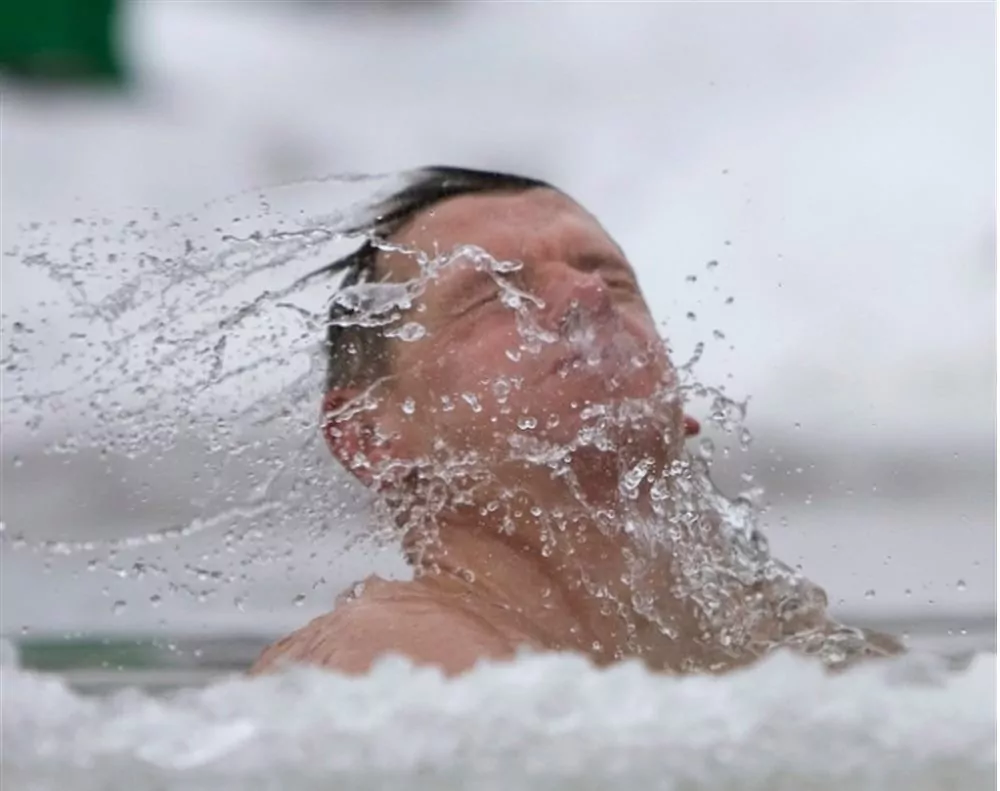 I plunged into a stabbing pool of cold; I gasped in shock; the bitter iciness astonished me. The freezing water began to suck all heat from my body. (My pedantic friends, though, say that my little body tried to heat hundreds of gallons of ice water.) The water temp was below freezing, unfrozen only because of its movement. It felt unbelievably cold. And so did I.
The spiritual condition of humanity after sin is that same artic-chill, our lives ebbing away in an icy river of death. Sin is not just bad behavior: "I lied," "You cheated." Sin is the power of death, ceaselessly, relentlessly, inexorably draining every unit of warmth from each human soul.
I once heard a pastor conclude an Easter sermon with, "So Christ rose in our hearts," as though the resurrection is primarily a rosy outlook on life, just like saying, "It's always darkest before dawn." The idea of the resurrection feels good, but how important is it to our daily life?
If the gospel is Christ dying for our sins, why didn't the Father just bring Jesus to heaven like a spiritual beam-me-up Scotty?
Depravity
It's not just our bodies that are dying. The term depravity means sin's ruthless corruption of the human nature so that each part of us is dying. Nothing of God's design is left unscathed:
Of course our bodies are dying; we used to see 20/20 and now we need bifocals.
Yes, we love others, but even our best love is a bit selfish.
Our few moments of genius are mere ghouls taunting us with their transience.
We have been plunged into the icy river of death, and each facet of our nature is being drained of life. Great artists admit that even their greatest masterpieces are mere drafts of what might have been. Everything in our lives—from life to love to art—is disfigured, spoiled, and dying.
So why Isn't the Crucifixion Enough?
If Jesus had only died for us, it means he was plunged into our same icy river of death until he succumbed. But we would be left freezing in the glacial grip of that life-sucking stream. If Jesus had simply died for us—unbelievably loving as it seems—we would still be slowly freezing.
After I fell in the stream, my friends dragged me out, threw me in a steaming shower, and let it bathe me with its warmth. By myself, I couldn't have heated hundreds of gallons of icy river.
The crucifixion means Christ plunged into the icy-cold river of death. The resurrection means he soaked into himself all the freezing evil of that icy river; and he heated it hotter than a sauna. He absorbed into his body the billions of gallons of sin's wintry selfishness; and then his goodness boiled the oceans of cold indifferent sin inflicted on creation by all of humanity through the centuries.
Death didn't overcome him. Jesus soaked up death and defeated it. Jesus didn't come simply to forgive sin. He came to wage unlimited warfare and then subjugate both sin and death.
So what does that mean?
If the resurrection is true (and it is), it means that Jesus not only reached the limit of human endurance, he pushed beyond. Like a cosmic nuclear reaction, he used his last ounce of good to reheat those frigid waters. What once was the river of death is born anew as the river of life.
The resurrection means the clock is running backwards, warmth is reflooding the waters, the spoiled is becoming unspoiled, and that death that worked against us is now dying.
Someday the final old part of us—our body—will be buried and our true bodies raised. Someday you will write that poem you always dreamed of or that symphony that lies just beyond your grasp. You will be who you always knew you could be. The thief has been robbed.
Is the resurrection a big deal? More than we can imagine. It gives me goosebumps.
Sam