The Times of London once asked leading British intellectuals to enter a competition, writing articles that answered this simple question: "What is the biggest problem with the world?"
G. K. Chesterton submitted his essay on a postcard:
Dear Sirs,
I am.
Sincerely,
G.K. Chesterton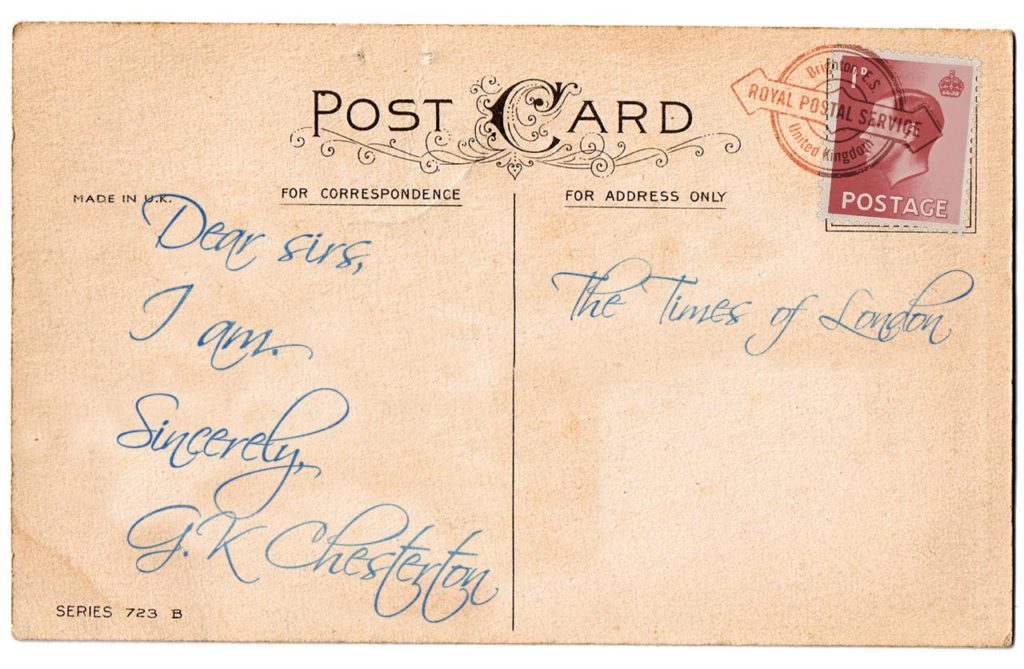 Over the last fifty years, a common therapy practice teaches us to hold a "high opinion of our capacities," and to "like ourselves a lot." It is a sacred doctrine in today's spirituality to believe that people with high self-esteem will be socially well-adjusted and those with low self-esteem will tend toward social deviance.
Yet it is just not true. And cracks are forming in the self-esteem creeds. Lauren Slater, a leading psychologist and writer, casts doubt on today's self-esteem evangelists,
There is enough evidence from 20 years of studies to conclude that people with high self-esteem pose a greater threat to people around them than people with low self-esteem, and low self-esteem is not the source of any of our country's biggest problems.

(The Problem with Self-Esteem)
Chesterton whole-heartedly agrees with Slater's observation, that "Low self-esteem is not the source of any of our country's biggest problems."
Because we are. You and me. (Though maybe him too.)
The gospel of Self-Esteem
For centuries, people gained self-esteem through great accomplishments. But achievement-based esteem came at a great cost: the snobbery of the talented ("Thank you Lord that I'm not like this tax collector").
Besides, few of us ever achieve the success we desire. So instead we despair.
Into that confidence gap, the modern faith in self-esteem was born amidst the humanism of the Enlightenment. Its dogmas came of age during the Romantics. In this age, "great thinkers" rejected the idea of original sin and embraced the non-Christian belief that human nature is essentially good.
Instead of relying on personal achievement, from the pulpit of humanism we proclaimed the goodness of human nature. Instead of snobbish accomplishment-esteem (and contrary to all of Scripture), we humbly proclaimed, "I am a good person."
But the proclamation esteem ("I am a good person") expresses an eerie echo of achievement-based esteem: self-conceit. A researcher observed,
The fact is, we have put antisocial men through every self-esteem test we have, and there's no evidence for the old psychodynamic concept that they secretly feel bad about themselves.

These men are racist or violent because they don't feel bad enough about themselves.

(Nicholas Emler)
Esteemed Humility
The first sin ever in human history happened when Adam and Eve grasped for self-worth. They listened to the temptation, "You will be like God."
The same temptation faces us: so we scratch and claw for all we deserve.
Yet the gospel has always been God lifting the lowly and never God affirming the highly. The gospel embraces an honest self-evaluation and rejects mere self-publicity. When faced with public slander, Thomas a Kempis gave advice that baffles the modern mind:
Do not take it to heart if people think badly of you and say unpleasant things about you. You ought to think worse things of yourself and to believe that no one is weaker than yourself.
How Did The Gospel Spread?
The growth of the gospel barely touched the high and noble, but it exploded among the poor and marginalized. It flourished, not because these people were excellent and had high self-esteem; it multiplied because they knew they weren't. And they didn't.
The gospel is not God affirming the greatness of the great; it is God pouring his greatness into the lowly. The gospel is not God crowning the virile prince; it is God turning the boyish shepherd into a king.
The gospel is not God saving the worthy; it is God saving the unworthy. Who know it.
Only when we let go will we receive. God pours out abundant streams of living water of God-esteem in our hearts. We simply must release our counterfeit claims of self-worth.
In the end, the gospel provides us with the ultimate confidence far outstripping self-esteem. G. K. Chesterton described Christianity this way,
"We become taller when we bow."
Sam