Years ago, I went scuba diving into a shark-feeding frenzy with two of my kids. We descended sixty feet to the ocean floor, knelt in a large circle, and a scuba-pro clad in chain mail descended with a basket of fish heads. Scores of sharks slammed into us on the way to their feast.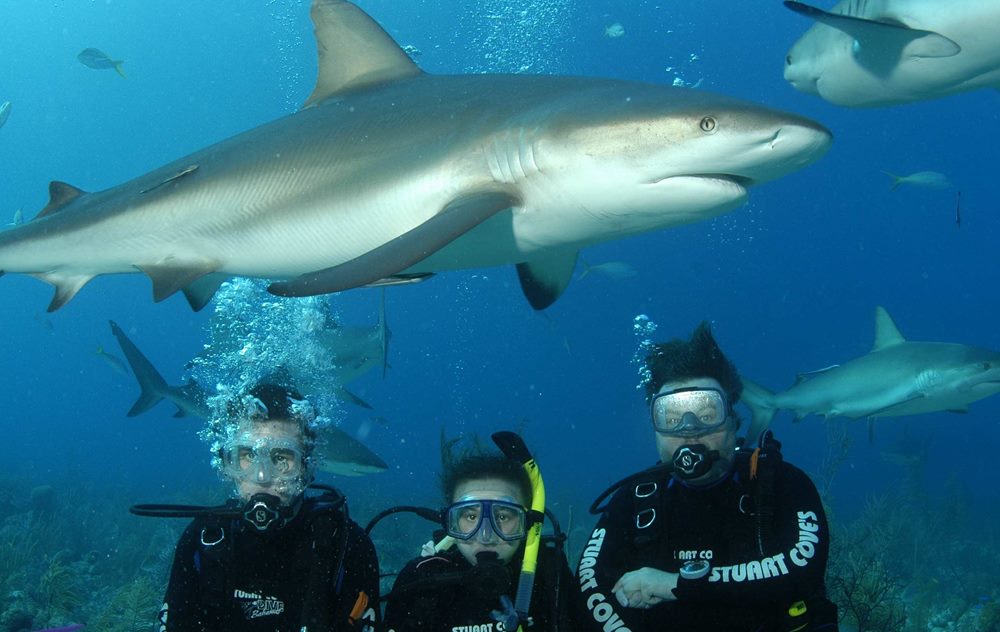 I couldn't resist buying a few professional photographs (even though they cost me an arm and a leg). I set my favorite shark photo as the desktop image on my computer.
About a year later, I opened my laptop on a business trip, and the man next to me asked about the sharks on my desktop. I told him about our shark dive. He shared his own story of risk.
He once took a chance in a business venture, but the venture failed, costing lots of money, prestige, and self-respect. He made a decision never again to take a risk. Twenty years later, his wife had just filed for divorce, he hates his boring job, and his kids loathe him.
"Sam," he said, "the greatest risk I ever took was the decision never to risk again."
Danger Is Unavoidable
Some people are naturally wild: hot-dog kids who skateboarded behind cars by hanging onto their bumpers, or adults who bungee-jump or skydive (or swim with sharks). We say, "I'm a safety-first kind of person; I'm just not reckless." Yet the point is, safety-first is just as perilous as thrill-seeking, fear of risk is every bit as reckless. And not as fun. Helen Keller said,
Life is either a daring adventure or nothing. Security does not exist in nature. Avoiding danger is no safer in the long run than exposure.
Safety isn't truly safe. Timidity may be more dangerous than taking a chance. Cowardice may be the greatest peril of all.
The fear of risk blinds us to the risk of fear.
How Dangerous Are Christians?
I fear most Christians lean more towards timidity than risk-taking. Maybe it's because "failure" sounds so much like sin. But failure isn't wrong, it's just a mistake. Gossiping about your friends behind their back is sin. Fruitless attempts are just fruitful lessons learned.
Someone once said, "It is so conceited and timid to be ashamed of mistakes. Of course they are mistakes. Go on and make the next one."
Pride, not humility, fuels our fear of the unknown. Besides, God designed us for danger. It's in our DNA. Jesus said, "I send you out as sheep amidst wolves" (which sound a lot like swimming with sharks). We are made for risk.
Although let's balance brawn with brains. I swam with relatively safe sharks, not Great Whites.
Mistakes Are Great Teachers
In 1983 I labored in my worst job ever. For eight months, I hated every moment. Sunday nights were terrible because "tomorrow" I would wake up to another week of misery. Yet I learned more about business (who I am, what kind of promises to make, and how to deal with angry customers) than I ever did from any other five-year job that I loved. It was a good mistake.
We've all heard that mistakes are master teachers, but we forget. Here are some reminders:
Anyone who has never made a mistake has never tried anything new (Einstein).
Those who never make mistakes never make anything (Brenda Ueland).
If we look back on our past life we shall often see that we have been helped by our mistakes and injured by our wisest decisions (Churchill).
Success is not the absence of mistakes. It is the product of mistakes (Unknown).
The ultimate form of recklessness is to live a life of riskless-ness.
So What Can We Do?
Shakespeare wrote, "Our doubts are traitors / And make us lose the good we oft might win / By fearing to attempt." Shakespeare's advice is simple. He says, "Try something. Anything." We may fear risk because the hazards seem too great. Sometimes they are. To develop our new habit, let's forget about climbing Mt. Everest (for now).
Let's start by sharing with a friend something we've never shared; or write a poem, disagree in public … or learn to scuba dive. Confidence in little risks grows our risk-ability. Soon we'll swim with sharks.
And we'll sheep-fully (not sheepishly) engage the world of wolves.
Sam