It is natural to shudder when we think about the tests of God. They seem so scary. Yet I believe the tests of God are the key to hope and joy. Let me explain.
I began flying lessons in 1997. These lessons taught me to take off and land, to navigate using aviation charts, and to communicate with air traffic control.
I particularly liked learning to land.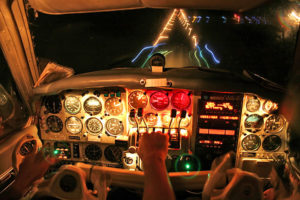 On my second flight, my instructor Jayne pulled the throttle to idle and announced that my engine had just died. She asked what I was going to do. Throttling her was not an option because I hadn't yet learned to land. But I was strongly tempted.
Soon a pattern emerged. She'd kill the engine, I'd want to kill her,  I'd look for a place to land, and we'd practice standard engine-restart procedures. Then we would circle down to the landing site until Jayne said we would have made it (or not). Then she'd re-throttle the engine, we'd climb, and we'd review what I had done.
Jayne drilled the engine-out procedures so thoroughly into me that I could have done them in my sleep.
Though I never tried.     Continue Reading…