For much of human history, people have been executed because of their beliefs. These people weren't killed for antisocial behavior (like murder, rape, or treason); they were slain simply because of their inner-conviction about reality.
We're more tolerant today. That's good. I don't want to be burned alive because I believe that Android phones are better than iPhones (though I confess to liking roasted Apples…).
It's right we abandon belief-based execution, but remember those who experienced it. Thousands of men and women willingly suffered slaughter without recanting. They believed so strongly, they wouldn't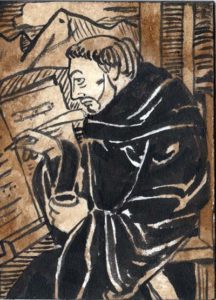 pretend to deny their beliefs; even to save their lives.
Today, though, doctrine is scorned. We imagine cloaked monks, closeted in their dusty cloisters, penning abstract dogmas on "How many angels can dance on the head of a pin?" I once asked dozens of people what they thought of doctrine. They boldly proclaimed:
Doctrine, schmoctrine; God only wants us to love each other.
Doctrine is about the head; I believe in the heart.
Doctrine divides; it's more important to find what unites.
Thinking is the devil's territory; let's just experience God.
The thing is, each of these statements is a doctrine. (The belief that "God only wants us to love each other" is called the doctrine of Salvation by Works.) But would you die for your doctrine that, "Thinking is the devil's territory"? I think not. Dorothy Sayers wrote,
In the world it is called Tolerance, but in hell it is called Despair … the sin that believes in nothing, hates nothing, finds purpose in nothing, lives for nothing, and remains alive simply because there is nothing for which it will die (Creed or Chaos, slightly edited).
We don't need to be burned at the stake. Our shallow convictions about reality are death. The problem with doctrine is that we all have them; few of us admit it; and it's killing us.