A couple of weeks ago Christians celebrated the Ascension of Jesus. Do you ever wonder why we celebrate the Ascension? I understand celebrating the birth of Jesus, and his resurrection, and even his death on a cross (if we understand what it means). But his Ascension? Yet after his Ascension, the disciples "returned … with great joy" (Luke 24:51). They celebrated the Ascension.*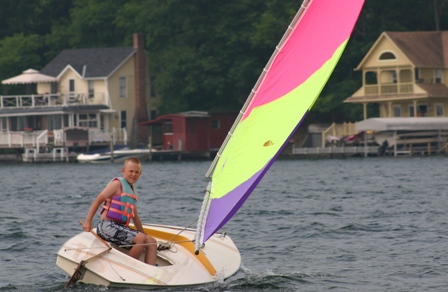 When I was about ten years old, my father taught me how to sail our small sailboat. He taught me how to capture the wind, how to steer with a tiller, and how to "right" the sailboat when it capsized.
One day after another sail together, my father looked at me and said, "Go on, take her out by yourself." The wind was rather strong; the waves were rather large; and my mother was rather terrified. I loved it. I took the boat out alone. The wind blew splashes in my excited face. I was a ten-year-old boy alone on the sea; I was Captain Hook, Christopher Columbus, and Sir Francis Drake all rolled into one.
That was one of the most memorable days of my mere ten years of existence. I still delight in the memory.
What does the Ascension have to do my solo sail? Well, quite a bit, actually. As I've reflected on the Ascension, here is what God is saying to me.